THROW THE BEST PARTY WITH THIS UNIQUE GAME!
Play any game style by agreeing on a wager with your competitor before the game.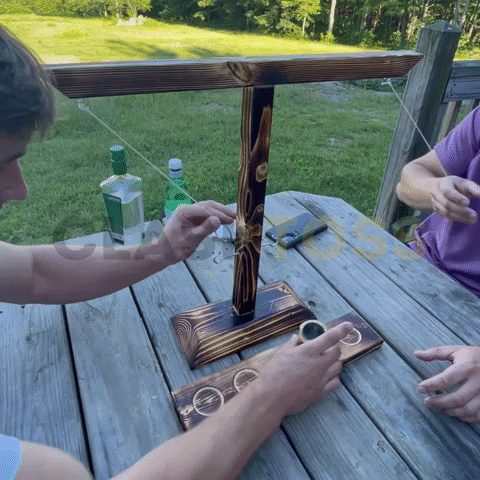 This is the perfect party game for two players to start a huge memorable party!
You will never forget the extreme fun and rush that you will feel while playing…
Now you can battle it out for a shot with our handcrafted Battle Toss game!
How to play:
1. Start the game with a shot glass or peg in the center hole of the shot ladder.
2. Each Player then swings their ring simultaneously in order to hook it the fastest. When a player hooks the ring, they move the shot glass/peg one step toward their opponent.
3. Play continues until one player is able to move the shot glass/peg off of their opponent's edge of the shot ladder.
4. The first player to do this wins and the loser takes a shot.
5. You can play it in reverse so the winner gets to take the shot!
Features:
Measures: 11″ Tall x 10″ Wide
The base features 4 rubber feet on the bottle providing stability and a small elevation.
Featuring a precision string system built into the frame to conveniently tighten the strings.