Built astride a huge gash in the mountains carved out by the Río Guadalevín, Ronda is a brawny town with a dramatic history littered with outlaws, bandits, guerrilla warriors and rebels. Its spectacular location atop El Tajo gorge and its status as the largest of Andalucía's white towns have made it hugely popular with tourists – particularly notable when you consider its relatively modest size. Modern bullfighting was practically invented here in the late 18th century, and the town's fame was spread further by its close association with American Europhiles Ernest Hemingway (a lover of bullfighting) and Orson Welles (whose ashes are buried in the town).
Plaza de Toros de Ronda
We suggest you start your visit with the Ronda Arena (in Spanish, Plaza de Toros de Ronda), one of the oldest arena in Spain. Ronda is known to be the birthplace of bullfighting.
Built in 1785 by the same architect who built the Puente Nuevo ("New Bridge" in english), it can host 5,000 spectators.
One of the best bullfighters in Spain founded the bullfighting school of Ronda. You can visit the bullfighting arena as well as the museum, located at the same place.
All information for the visit is available in a on Ronda Plaza de Toros official website
Ronda Viewpoint
From the Plaza de Toros, take the Paseo Blas Infante to the edge of the cliff. Start from the right side (ending in a dead-end street) and follow it to the end, you will walk along the edge of the cliff and will be able to admire beautiful views of the valley below.
Then turn back to Ronda Viewpoint. The opportunity to scare yourself on the footbridge over the cliff, as well as realize the exceptional situation of this perched village.
The Puento Nuevo
Continue on your way to Plaza España and you will finally see the Puento Nuevo (New Bridge), the main attraction of Ronda and the emblem of the city on all the postcards!
Completed in 1793, after 42 years of construction, the Puento Nuevo crosses the valley and connects the old and new town previously separated by the El Tajo valley and the Guadalevin River. This spectacular bridge is nearly 100 metres high.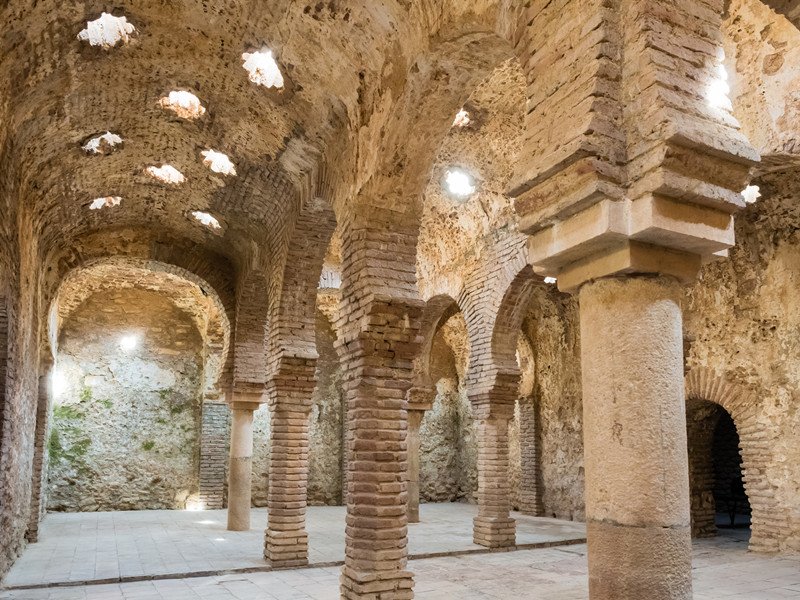 Ronda Arab Baths
It is located in San Miguel district. These are the most well preserved in Spain. Built towards the end of the 13th century, they are arranged like the Roman baths with a cold, warm and hot zone. Surprisingly, the hydraulic system is still almost intact today.
Plaza del Socorro
Finish your city tour with the Plaza del Socorro, a pretty little square surrounded by bars and restaurants terraces. The ideal place to take a refreshing break to end this day of visits. You will enjoy a beautiful view of the Nuestra Senora del Socorro Church.